Welcome to The Partially Sighted Society
We are a national charity here to help anybody living with sight loss
Our specialist services focus on helping you to make the best use of your remaining vision and our friendly team are at the end of a phone if you or someone you know is affected by sight loss. Please download our catalogues to view our selection of aids, stationery, bold-lined exercise books and leisure items.
Read more about our Support Groups here.
---
PSS iTalk is now LIVE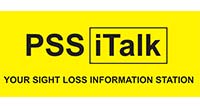 Offering you a variety of short audio features on every kind of practical aspect of living with sight loss – from useful daily living devices to eye condition information – covering home life, social life, work life and leisure life. And you'll be able to phone us for more information about anything you hear in PSS "iTalk" – because we're here to help.
There will be several ways to listen to us and, whichever way you choose, you'll be able to select what you hear. We'll be able to be heard over any phone, on smart speakers, on our website, as a podcast and on several specialist audio players. The choice is yours.
Listen in now by visiting the top bar labelled 'PSS iTalk'.