Ways to Donate
Setting up a recurring contribution, no matter how small, provides us with a dependable source of funding. And every donation, big or small is used to make a difference to someone living with sight loss. Please click the amount in the yellow circles you would like to donate per month.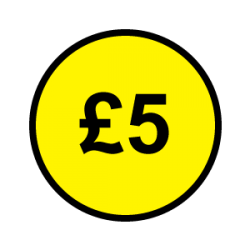 £5 a month will pay for 2 symbol of visual disability badges, an arm-band or lanyard or fund 2 bold-lined school books for a child with a visual impairment.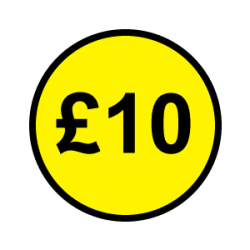 £10 a month will pay towards an enhanced low vision assessment – helping people to make the best use of their remaining vision.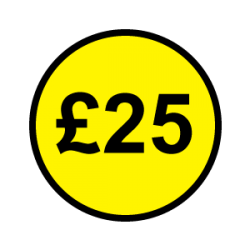 £25 a month will pay towards a sight test with our optometrist and help fund a magnifier, light or electronic magnifier for those who cannot afford them.
Donate By Just Giving
Most people use JustGiving to raise money for themselves, a loved one, or a friend in need during life's most important moments. We value all donations as an organisation that supports the visually impaired community Thank you for your support! Click here to make a donation https://justgiving.com/partsightsoc

Donate By PayPal
Donate by PayPal as a one off donation or a monthly donation. PayPal is a secure online payment system allowing you to make a donation to The Partially Sighted Society by clicking the image.

Donate by Text
To make a donation, text 'PARTSIGHT 5' to 70085 to give £5 a month. This costs £5 per month plus a std rate message. Alternatively, you can opt to give any whole amount up to £20 per month for example 'PARTSIGHT 3' will give £3 a month, 'PARTSIGHT 15' will give £15 a month. Thank you for your support!
One-off donations
If you would like to make a one-off donation you can send a cheque to: The Partially Sighted Society, 1 Bennetthorpe, Doncaster, DN2 6AA. Your donation can be increased by 25% under the Gift-Aid Scheme if you are a UK tax payer.
Leave a gift in your will
Leaving a gift in your will is a way to give lasting support and to continue making a difference to people with a visual impairment.
If you have organised a will, you can add a Codicil, which is a legally binding supplement to your original will.
Remembering a loved one
If The Partially Sighted Society has supported your loved one in any way, donations in lieu of flowers is often a meaningful way to support a cause that was close to their heart.
Volunteer your time
If you have a few hours a month to spare and would like to take part to raise funds please call us.
Be a corporate sponsor
Whether it is raising vital funds, sponsoring a piece of equipment or service or building awareness of living with sight loss, our corporate sponsors play a crucial role in helping us to help others. We value any contribution or commitment regardless. There are several ways you can choose to sponsor:
You can sponsor a specific service – from £50.00 for one Low Vision Assessment up to £5000 for a piece of life-changing equipment
Choose us as your annual charity
Hold fundraising events with your staff
Make a one-off donation
Display our collection tins in your premises
The benefits of corporate sponsoship
Advice on accessible printed material
A 10% discount on large/bold printed material
A 10% discount on Visual Impairment Awareness Training for your staff
Free exhibitor stand at our Open Days
To become a corporate sponsor, please call Anita on 01302 965195 or email anita@partsight.org.uk
Charitable Legacies
We would like to graciously give a heartfelt thank you to all our members, patrons and past legators for all your generosity and backing over the 55 years we've been in operation – It means the world to us.
During the turbulent times of the past year and the ongoing worldwide pandemic, The Partially Sighted Society has continued its efforts in aiding and supporting those who struggle with their daily lives on account of their reduced eyesight. Despite the conditions we have managed to print over a million schoolbook pages for children in the UK, with the surplus going to underprivileged children with sight loss in Tanzania.
There are over 2 million people in the UK that are considered partially sighted, with that number expected to double to more than 4 million by the year 2050. Which means whilst we work hard every day to ensure our service users' needs and wants are met, our journey ahead will be evermore challenging. Which in turn means our scope of operations will broaden significantly.
Therefore, we at the Partially Sighted Society are always accepting of legacy gifts in your will after you secure the future of those closest to you.
In the not so distant past, charitable legacies have ensured the survival of the society when financial hardships threatened to end our story before we had achieved our goals.
If you wish to leave us a legacy gift, you would not only be benefiting us and all those who use our service, you would also be a guaranteeing that less of your inheritance is taxable. If you were to donate 10% of your inheritance to the society, you could benefit from a 36%-40% reduction in tax on your inheritance fund.
We would also love for you to get in touch with us so we can personally thank you and as our doors reopen, we would like to reiterate how excited we are to have you come visit us in the near future.
What to do next
If you would like assistance in changing your will or wish to create one with the Partially Sighted Society you can copy the following text below into your documentation or speak to us and we can contact our team to talk to solicitors on your behalf. Please remember that any contribution, big or small, is welcomed and appreciated all the same.
I leave my / X share (s) of my residuary estate for the Partially Sighted Society, 1 Benetthorpe, Doncaster, DN2 6AA, registered charity number 254052 (England and Wales), absolutely for its general charitable purposes and I declare that the receipt of the treasurer or other proper officer for the time being shall be a sufficient discharge to my executors.
If you would like more information or just a quick friendly chat with our team please feel free to reach out to us by email reception@partsight.org.uk or by phone: 01302 965195
Once again, on behalf of the whole team at the Partially Sighted Society we wholeheartedly thank you for your continued support.