Visual impairment awareness training courses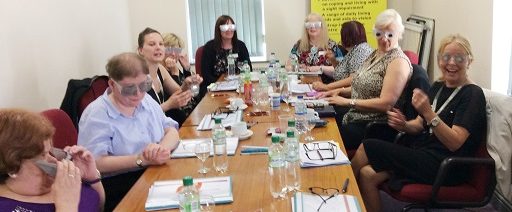 Visual impairment awareness training
Are you a carer/family member or professional living/working with someone with a visually impairment?
If so, this one-day course will give you more of an understanding of what it is like to live with sight loss and how to guide and support someone with a visual impairment.
This is a full day course which will incorporate information on the main causes of visual impairment. It includes practical tasks carried out whilst wearing simulator spectacles. In addition, sighted guide training is facilitated by our low vision therapist.
Light refreshments are provided.
For further details or to book, please contact us.
Visual impairment awareness training for organisations
We can also facilitate courses for your staff on dates to suit you and in your own venue if required.
On completion of the course learners will be presented with a badge stating that they are visually impaired aware.
For further details or to book, please contact us.
Low vision training
For more information about our Low Vision training for professionals please contact us.